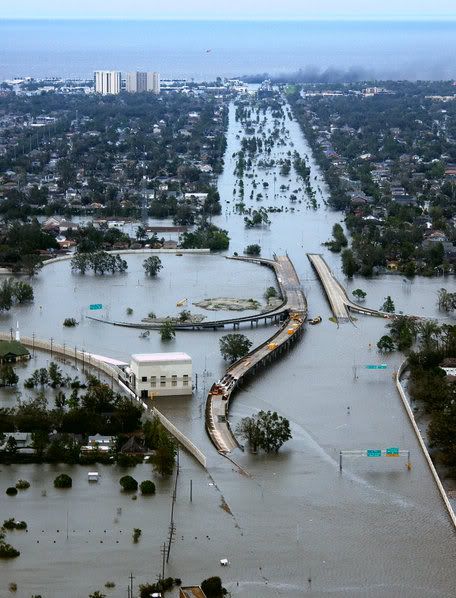 ("Flooded I-10/I-610/West End Blvd. interchange and surrounding area of northwest New Orleans and Metairie, Louisiana." Photo source: U.S. Coast Guard, via Wikipedia)
One year later, some NOLA-area residents
tell their stories
to Grist writer Piper Hanson. Here are a few quotes:
"Words alone could not describe what we saw. The entire area looked as if a bomb had exploded. It was utter devastation."

"There are so many items large and small just sitting out there in the sun that have memories attached to them, even though they are now completely unsalvageable. I hate to see them removed just the same because they represent my past and all the memories I have of growing up."

"I could smell the city before I ever saw the skyline. It was the worst scent I have ever experienced. Nothing could have prepared me for what I was about to encounter visually."

"I had never seen firsthand destruction on this scale. I was overcome with emotions, partly because this is where I grew up. All the connections to my childhood were lying in ruins."

"The inrush of saltwater had chemically burned and killed the trees, grass, and other plants. All the people, plants, insects, and animals were either dead or gone."